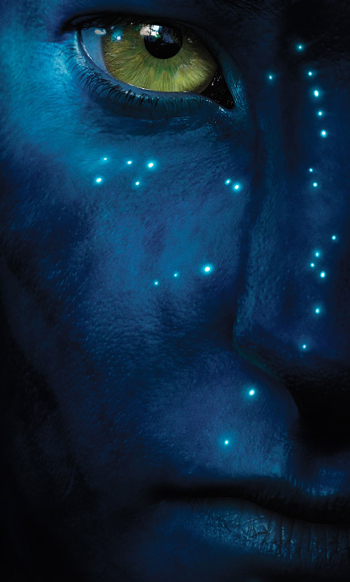 I saw Avatar two weeks ago.  Wanted to blog about it but couldn't!  Why?
I don't know how to write about the fact that I cried while watching it.  And now — I can't stop thinking about it.
Perhaps too many things were/are just too familiar.
First, the blue skin of bodies adorned with a map of bright stars made me think of my childhood in Poland.
Have you ever layed in tall grass at night looking at the starry sky and felt that life was perfect?  I did.  The grass smelled of wild flowers and the hot day of that summer.  The earth beneath me felt solid and gave me sense of belonging.  And the starry sky was like a promise of things yet to be discovered.  Remembering this made me cry.
Second,  the energy of life and the connectedness of all things.
In this imaginary world of blue people, everything was alive. The  trees, the flying reptiles, the horses, and the soil itself were a manifestation of the same god or the same energy called Eywa.
This reminded me of the class I teach at Howard Community College, Fundamentals of Spiritual Awareness, and how it feels to see my students engaged to the point of bewilderment when we study the Eastern ways of perceiving life, including the energy system of the human body. Remembering my students and how satisfying teaching is made me cry with joy.
Third, pain, the raw feeling of helplessness that comes with war.  As I watched the perfect world of the blue people being destroyed by unmatchable force only one person came to my mind.  Her name is Cindy Sheehan.  Her son, 24-year-old son — Army Spc. Casey Sheehan of Vacaville, California — was killed in Baghdad's Sadr City on April 4, 2004.
Why are we in Iraq again?  It makes me cry every time I think about it.