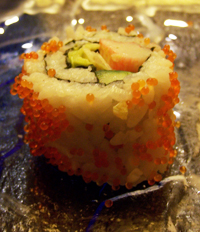 Today I had lunch with my dear friend, Mike, his wife, Lois, and their friend Rabbi Siegel.  Yes, the famous Rabbi, who in the 70s denounced his congregation's materialism and shallow religious convictions. We ate sushi and talked about spirituality. What does it really mean? How to define it?
After an hour and many cups of green tea, several miso soups, salads, sushi, and struggling to define what spirituality really is, we came to a mutual conclusion that it cannot be defined but it can be experienced.  The closest description of spirituality would be living in grace: in state of peace with oneself and with the world as it is, without the need to define anything, but with the will to be in the presence of life itself.
After we satisfied the definition of spirituality — for the day — the conversation took an unexpected turn toward aging and dying.
Mike's central concern about aging is not becoming a burden to his children. "I always remember the story of the old man who could no longer keep up with others in his tribe," Mike said in an email later that day, "and ended his life by not crossing the river with the others, but sat on the shore and awaited nature's call."
This is Mike's life in grace: not to expect and not to be a burden.  It made me deeply sad.
Rabbi Siegel thought differently. He believes we need to allow our children to take care of us in our old age and give back what they had received from us.
As for me? I grew up in Poland in an era of multi-generational households. Not taking care of our old ones was as foreign to us as not eating or not praying every day.
We witnessed aging and dying. We kept our dead ones at home before the burial to have a chance to pray, to give thanks for their lives, to touch their hands and to kiss their foreheads for the last time, and to say slow goodbyes.
Initially I thought I agreed with Rabbi Siegel. His theory seemed fair.
Yes, let's let our children to take care of us. This way, we the aging ones, can learn humility by being dependent again and our children can learn humanity by taking care of us.
Later that day a new reflection came upon me. If I like the Rabbi's theory, so familiar to me because of my upbringing, why do I exercise the opposite as a parent?  Why do I protect my own teenage son from the slightest "bad news of the day"?
I think like Rabbi Siegel but I live like Mike.  Can I resolve myself to a clear choice one day?