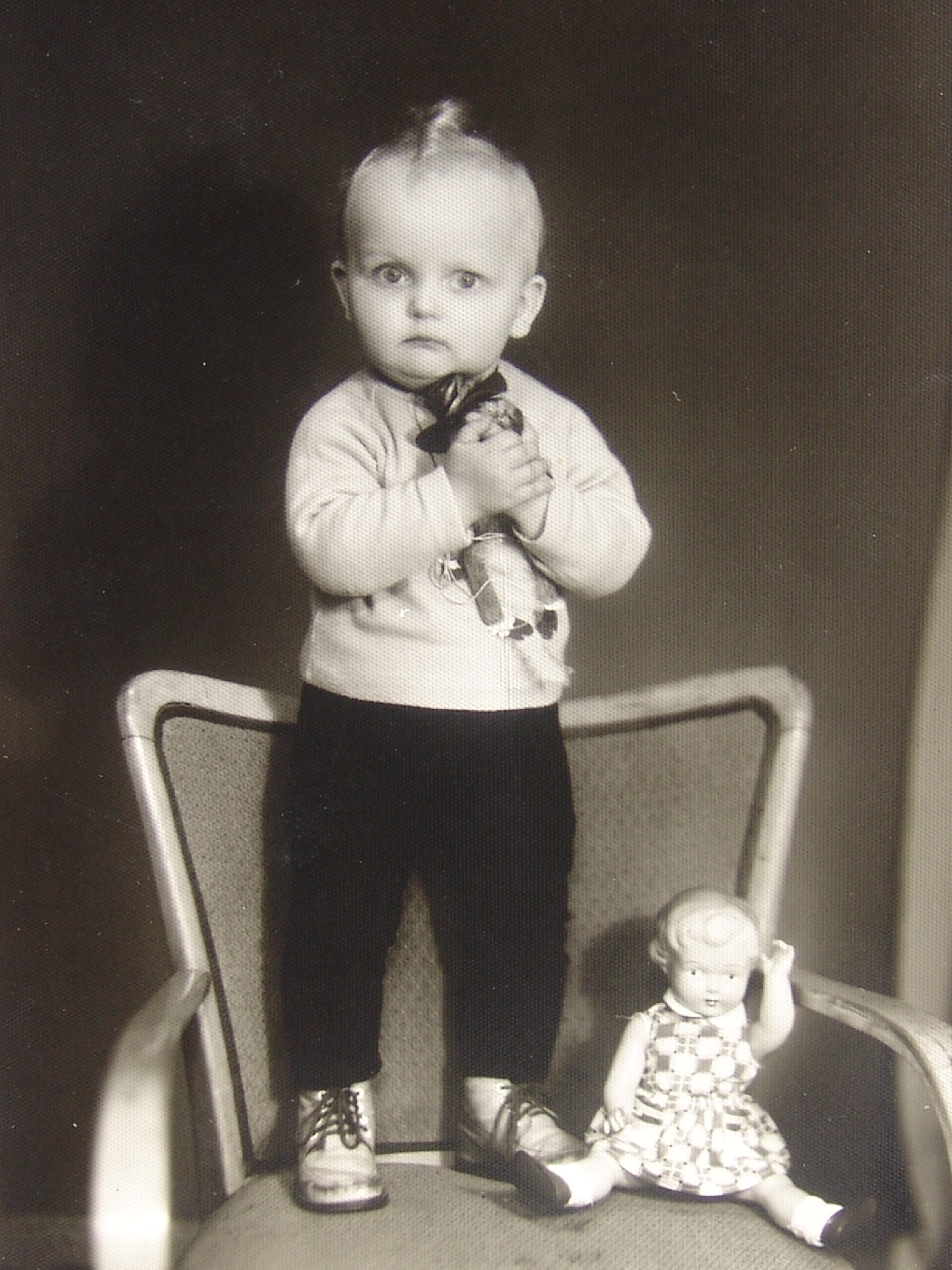 I came to believe that the me inside of me is the same since my earliest memories can reach.
I came to believe that time and experience have changed my flesh and matured my way of thinking but have had no impact on the core or the essence of what constitutes the me.
And I think that the me is the part of me that remembers.
Here is what I remember when I look at the picture you see in this post.
My mom leans over me and picks me up.  She places me on the chair.  The cushion of the chair is soft and springy.  I try to be still and I am afraid to lean back.  I look down and I see the tips of my yellow shoes being scratched and I don't like it.  Mom asks me to hold my doll and then she moves back a couple of steps to look at me.
"No.  It doesn't look right.  The doll is too big.  It covers her too much,"  my mom says to the photographer, a woman who will take my picture.
Both women look at me, come closer to the chair and then move back.  They move fast, I try to be still.
"Do you have a toy we can borrow?  Something smaller?"  my mom asks.
The photographer passes me on the left and disappears behind the black curtain.  I turn slowly to look back, to see what she is doing.  I want to go there with her.  I want to see what's behind the black curtain.
She comes back and hands me a little puppet.
"That's better," my mom says and comes closer.  She touches my hands and says:
"Danuta, don't squeeze it so much.  Hold it gently."
I understand what she says and I want to do it but I can't.  My hands don't listen to me.  I can't even open them.  I try to be still on the soft cushion.  I can feel the springs in the cushion and this is what makes me be still.
Mom places my doll on the chair next to me and she lifts the doll's arm.  Now she moves back and says:
"Danuta, smile."  And she smiles at me in a strange way.
She encourages me a couple of times.  I remember what smile is but somehow I can't do it.  I am confused.
Today, when I look at the picture the me inside of me comes to the surface and I am the one year old Danuta on the chair again, as if there was no time that past between then and now.
When I become still and look down (but sort of inward), I see two women hovering over me.  I don't really remember the exact words (I can't hear them) but I remember what was being said.
I remember the feelings and moods of that day more than anything else.  My mom was nervous because my father was late.  I don't remember him joining us but I know that he came because I have a picture of the three of us from that day.  I also remember the speed of things, much too fast for me.  The photographer going behind the curtain, my mom moving back and forth to look at me, wobbly chair, my immobile hands.  I remember wearing an amber color top with one button on the back and black pants.  And of course the ankle high leather shoes.
Even though, I came to believe that the me is the core or the essence of me, sometimes I wonder if I am right.  Do I really bypass the time?  Can I feel the moment from years ago?  Can I truly remember?  How much of the me is shaped by stories I have heard and told over the years of my life?  Why is it that the me feels so strongly like the essence of who I am?  Like the place where I belong? Like home.