When I think of the thread to burn the Qur'an and of the many divided voices in the media, I can't help but to admit the strong clash I feel between what we call the liberties of this country with what I remember as the history of my family, of my country, of Europe.
I didn't expect to discover in the past week, but I did, that I am against the liberties of this country, of the country I love also for its liberties.
I remember being a child, growing up in a multi-generational  family and learning some aspects of the history of my country and of Europe almost every day of my life.
On many occasions, when I didn't want to finish my meals, my elders reminded me of the horrors of World War II. "Don't waste food.  Children in Auschwitz were dying of starvation."  Sometimes I had heard a different version of the same message: "If you won't eat your food you will look like children in Auschwitz.  All skin and bones."
I still see myself staring absent-mindedly into the plate of unfinished kotlet schabowy (a pork chop dish) and wishing I could either erase history or be transported into the horrific past to share my food with the ones who needed it most.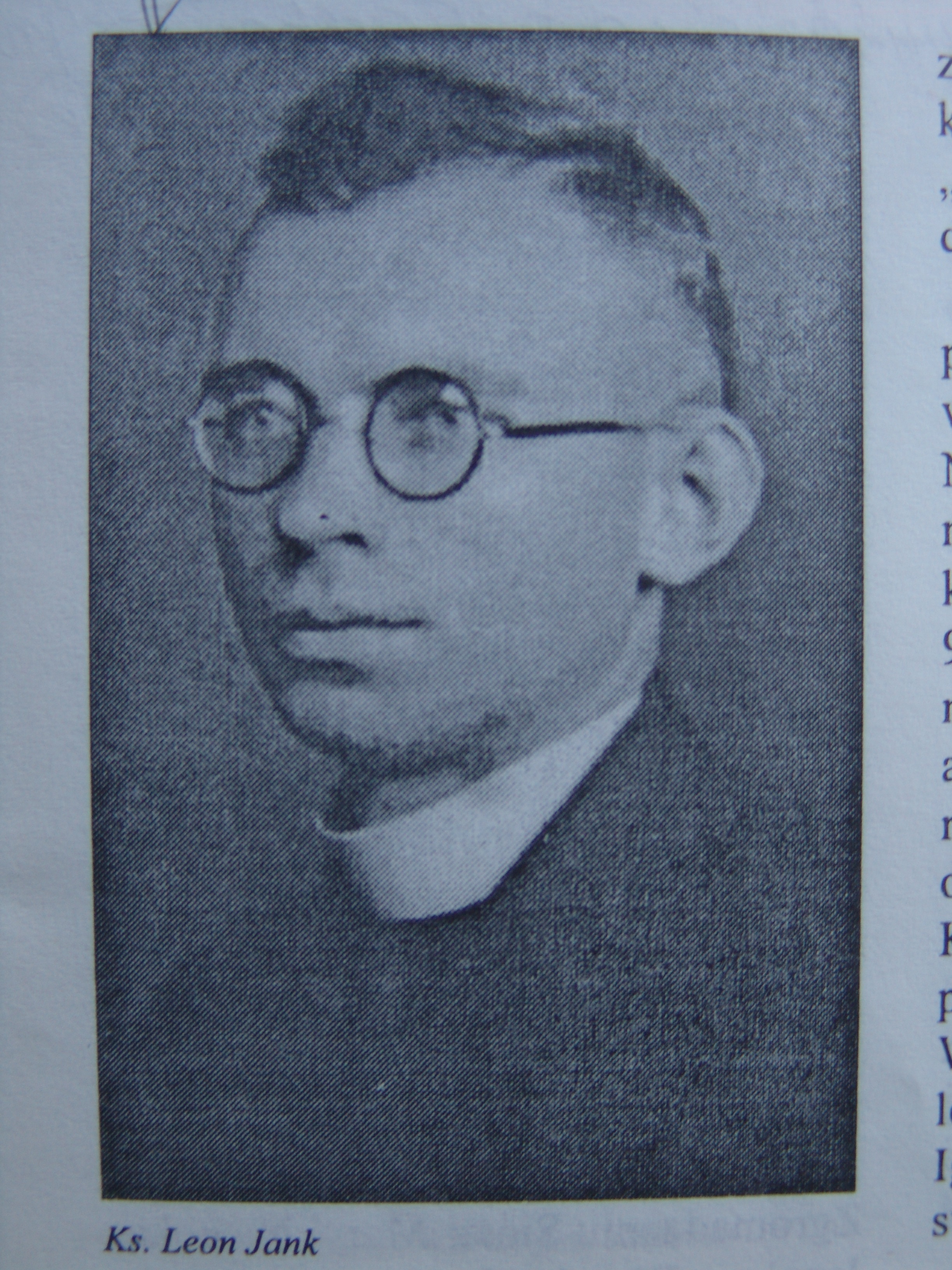 I also think of the relatives I had never met because they were killed by the Nazis.  I look at the picture of my grandfather's brother, Leon Jank, a young priest, printed in Pomerania Magazine in September 1995 in the article about my family, Szesc Pokolen Rodziny Jankow (Six Generations of the Jank Family) and I wonder what would had become of him and his life if he hadn't been murdered at the age of 33.  I see a young face and intense eyes behind round glasses, short haircut, and a priest's collar.  I imagine him hunched over a book for long hours into the night.  No one knows where his body was buried.
I think of my grandfather Joseph, whom I carry in my heart remembering the many stories he shared with me when I was a child.  And I remember the stories about him told to me by my mother when I was a teenager.
"Grandfather lost his mind after the war,"  she told me.
"What do you mean?"  I couldn't imagine him being different from the grandfather I knew.
"He saw too much during the war and couldn't forget.  He spent many months in Kocborowo, psychiatric hospital,"  she said in a whisper.
Everyone whispered about my grandfather when the war was mentioned in his presence, because losing one's mind was stigmatized as weakness and not accepted as a medical condition.  One had to be strong to live through the horrors of war and this is what was expected of all.
And I think of my father, Jerzy (George), who still, at the age of 73 is tormented by what he remembers.
"I remember them here."  He had pointed to the ground next to the bridge near my house for the first time when I was a teenager and then repeated the story many times throughout my life.  "The woman was lying on her back and the little boy was next to her.  She had holes in her sweater and her tights.  I was six years old.  They were buried right here, in the same spot where they were shot and killed." He have been haunted by this image since the day it happened.
"I think we should dig them out and give them a proper burial,"  he says sometimes, "We need to dignify their lives and their passing,"  he says, "I need to talk to the Mayor one day,"  he says, "I see them as if it happened yesterday,"  he says.
When someone says, "There is no book that is too holy to be burned," I remember that moment in history when books by Sigmund Freud, Albert Einstein, Thomas Mann, Jack London, H.G. Wells went up in flames. The moment of burning those books preceded the horrific atrocities of the Word War II and marked millions of lives, including mine with knowledge that should never be learned.
And here is a list of incidents of book burning in our human history.  Can we point even one that came down the history as justified or noble act?
I want to remember the words of a Jewish-German poet, Heinrich Heine who said:
"Where books are burned, human beings are destined to be burned too."