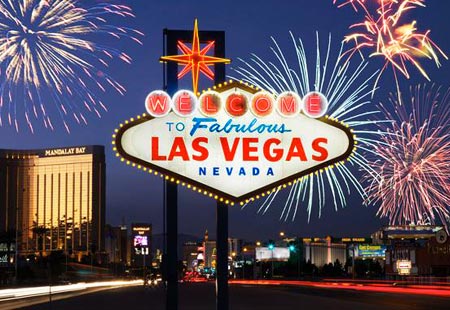 I look at pictures of Las Vegas on line and I want to measure up to the festive experience I sense in the spectacular lights and colors but I simply can't anymore.
My recent trip to Las Vegas, to attend the BlogWorld Conference, has changed my perception of this place irreversibly.  And I am almost sorry for myself.
My staying in Las Vegas was divided into two parallel experiences.  The first and foremost one was of course the conference which meant running from one session to the next one in hope to learn as much as I could.  The second experience was immersing myself in the life of the city to learn about the place as much as I could.
Walking down the Las Vegas Strip at night became a journey divided, again, into two different and parallel experiences.
First, when you look up you see nothing but happiness, excitement, and  fun.  Enormous advertisements invite you to experience the peak of life as enjoyment.  From David Copperfield and his unmatchable magic, through fabulous shows of Cirque Du Soleil to Cher who clearly discovered the secret way, so desired by all, of defying time.
But when you look down, under your feet, you see the different, parallel world of sadness, disguised as a simple and inexpensive worldly pleasure offered to you fast (in only 20 min) for a fraction of the money you are willing to loose in Las Vegas anyway.
Dozens of advertising cards line the sidewalk beneath your feet.  As you walk, you step on young women's faces adored with long and lash hair.  You step on their breasts with nipples inlaid  with sparkling diamonds.  You step on their half closed eyes that promise you pleasures beyond the experience you can ever imagine.
As you walk, you feel and become a part of the ocean of people walking with you.  Most of them carry their drinks in their  hands, most of them stagger.  Life is good!  We are having fun!  Young girls wear skimpy clothes.  Older men follow them in amazement.  Just to watch their rhythmic swag is enough to fulfill the desire of something long lost.  How painful is it to remember?
As you walk looking down, you see the beggars.  Their faces bruised with time and extensive exposure to the sunlight.  Their fingers stiff like branches.  One shares with his comrades the quarters he has just collected, emptying a plastic cup into his hand.
"Here," he says extending his arm.

"Thank you, brother."
The casinos have their parallels as well.
I see frivolous college students inserting quarters into the slot machines with easiness of someone who doesn't expect anything.  Their faces are freed of unrealistic hopes.  And then I see Indian women in Saris with their eyes transfixed on the screen in front of them.  I see women in their 40s and 50s, adorned with inexpensive jewelry, their make-up running down their faces, focused reverently on the dream behind their eyes as they put another 20 dollar bill into the slot.  I see grandparents, widows, young couples, and finally, little children — in the middle of the night — sleeping in strollers pushed close to the slot machines.
I want to experience the rush of the place and I can't.  Instead of rushing I become still and I watch.  This is when I become sorry for myself.
And as I watch, new reflections come to my mind:
Why can't I let go?  And what would it be that I have to let go of?
Why can't I have fun?  And what would qualify to be described as fun?
Why can't I be happy?  And what would I have to change in my  simple everyday happiness to make it "more" happy?
Why can't I be just like other people enjoying themselves on the street?  What would I have to change in the way I genuinely enjoy life to fit the category I can't even fathom?
Have I always been this way?
Yes, and it all started when I was six years old.
Stayed tuned for the story, coming soon, of how it all had began for me.