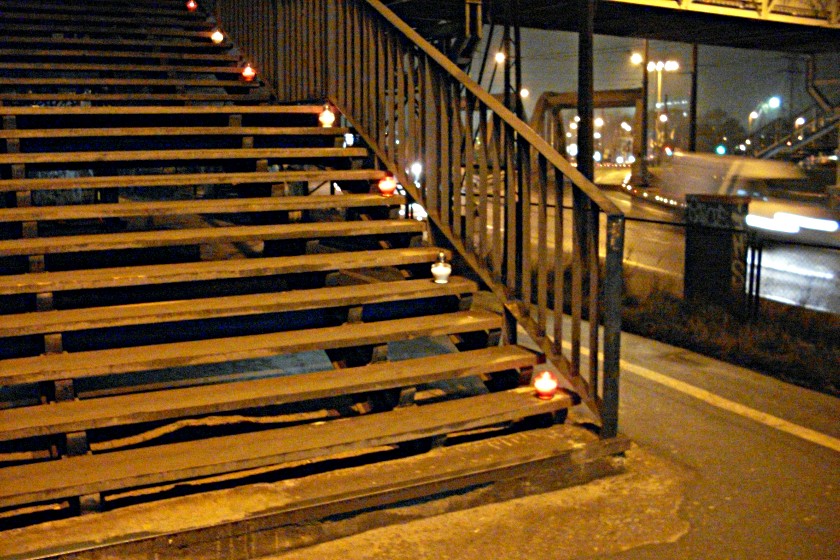 In a comment on the earlier post about my first public reading and book signing for To Kill the Other, Madga asked about the story of Marek's mother's death.  She asked if the story was based on real facts or if it was fictional. Here is my answer:
Many years had passed after the shipyard workers uprising in 1970 by the time I was old enough to understand what happened. By that time, many different stories became a part of Polish daily life, just like the stories about World War Two.
One of the stories that I remember vividly was about a pregnant woman running up the stairs in Gdynia Stocznia city train station.  As I was told, she was running up the very stairs you see on the picture in this post, screaming: "Panowie, nie strzelajcie, tam jest moj maz." "Gentlemen, don't shoot, my husband is there!"
As a young girl I was horrified by the events, by the fact that the woman was pregnant, and touched by her sophisticated, out of place language.
I imagined a beautiful woman holding her ripened belly (I was told she was almost nine months pregnant), sweating in her winter coat as she was running, while the sounds of machine guns cut the air.  I thought of her being brave and ferociously in love with her husband, the father of the child she was carrying.
And as a young girl, raised in the midst of the tragically romantic history of Poland, I concluded — based on another story I had heard back then — that if the people who were shooting that day spoke Polish, she would have been spared.  I simplified:  If they could only understand what she was saying, she would still be alive!
Of course my conclusion was based on the other story about the same events in which the people with machine guns were Russians.  Supposedly, the undeniable proof was derived from the fact that when they were wounded and taken to a hospital, they couldn't communicate with the personnel because they didn't speak Polish.
I am not sure if anyone asked questions like: Why would the Russians be wounded?  They were the only ones with machine guns, right?  But I am sure that even if these question were asked, I would had chosen the romantic, tragic story in which everything could have been different "only if," which makes the events much more painful and corresponds perfectly with the Polish destiny/history as we know it.
I left Poland to the USA after college and the events of 1970 were pushed to the deepest corners of my memory, making a new clean place for everything that was unfolding for me in the new country, until one day I decided to send a package to Poland.
As I was chatting with the lady in a travel agency in Baltimore, and as I told her that I am originally from Gdansk, she mentioned the events of 1970 and asked me if I had heard the story about that pregnant woman.
"Yes, I remember," I said.

"And do you remember how she was running up the stairs screaming, 'gentlemen, don't shoot, my husband is there!'"
That was the moment when I thought:  I have to write about it.
I am not sure if I am preserving a history of Poland in this story or if I am preserving a legend that speaks to the tragically romantic nature of people in Poland.
All I know is that I am telling a story of a pregnant woman who ran up the stairs during the shootings in December 1970 in Gdynia Stocznia city train station, asking the oppressors not to shoot because her husband was there, and I know that I had to preserve this story in my writing.
Is my choice a testimony to my romantically tragic way of perceiving reality?  Perhaps.
Here is the entire excerpt of Marek's story from my novel, To Kill the Other.
Image in this post: http://prawiejakfotograf.pl/2008/12/17/janek-wisniewski-padl/