"The people in Baru were as wealthy as any community I have ever known.  They had no cash, but instead they had abundant fresh food, comfortable homes, fantastic views, family and friends, and no stress.  This was paradise.  They had no electricity, and they didn't need it.  They had a central well for fresh, clean water, and they had plenty of time to fetch it.  Gathering water was a pleasant social event. A few villagers had battery-powered radios, and they could receive faint signals from Cartagena, so they heard the news, but their primary interest was the daily novellas — radio soap operas — not the hard news of political strife, war, and famine in far off places."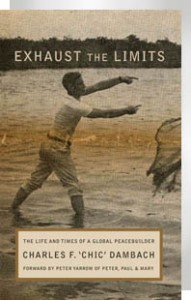 Reading this excerpt from Exhaust the Limits by Charles F. 'Chic' Dambach made me melancholic.  I imagined people with smooth faces, untouched by stress or grievances.  I imagined children running barefoot in a hot summer day.  I imagined old people sitting in a shade and smiling while watching the running children.  I imagined crystal water, pale blue sky and a basket of yellow fruits.  I imagined life lived with accordance to the elements of nature, close to the earth and sky.
And I knew that this paradise is lost for many.  Here is a list of 10 ongoing military conflicts.
And here, according to Expatify.com, are the places you can go to escape global conflict, to experience the paradise enjoyed by the people of Baru.
Charles F. 'Chic' Dambach is President and CEO of the Alliance for Peacebuilding.  He has served as President of the National Peace Corps Association, Operation Respect and other national organizations. He was a national champion athlete and Olympic Game official, and he is an award-winning public speaker. He is a passionate and inspiring advocate for peace.
I had the pleasure of meeting and speaking with Chic at the 2011 CityLit Festival in Baltimore. Here is a video of the conversation. I will interview Chic in greater length on June 19 and post it on the blog. I hope to learn more about how to end armed conflict and make the world more like Baru.