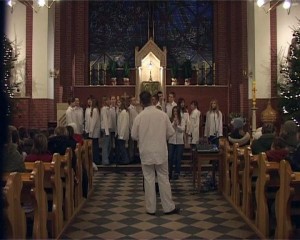 I looked at the floor and thought of chess.  This made me feel sinful. I was not supposed to have frivolous thoughts while in church.  The floor of the neo-Gothic church was made of black and white marble squares that made me think of the size of the chess pieces that would match the size of the squares.
The Queen would have to be my size. I concluded right before someone pushed me to the left.
It was my best friend, Adela.
"Danuta, move." She whispered into my ear.
I moved reluctantly closer to the person standing to my left. The entire third grade was in line to the confessional. I was nine years old and I was about to reveal my deepest sins for the very first time. Actually, it wasn't the first time or the first confession. It was the rehearsal of the first confession and it presented all sorts of problems for me, I struggled to see the difference between the rehearsal and the real confession.
If I confess my sins in the rehearsal, would God be informed by the priest that this is a rehearsal?  Is there a special understanding between God and the priest about the rehearsal?  When the priest blesses us during the rehearsal, is he blessing us or is he only pretending to bless us?  How does God feel about the rehearsal?  Does he forgive us our sins during the rehearsal or does he wait for the real confession?  Am I supposed to pretend that I am sorry for my sins?
And the biggest questions:
If I lie during the rehearsal, would this be consider sinful or would this be consider just "pretending" to lie and not qualifying for penance? If I lie during the rehearsal, would I have to confess this during the real confession?  Would I have to call it a lie or just "pretending" to lie?
I was confused, hungry, and I didn't remember my sins.
"Adela, do you remember your sins?" I whispered.
"Of course I remember my sins!" Adela whispered back.
"What are your sins?" I was hoping to refresh my own memory.
"You are not the priest!"  Adela was more logical that I needed her to be.
"Let's just pretend that I am." I gave it my best shot.
"Are you out of your mind?" Adela's eyes grew much wider than usual.
To think of it, she was right.  Instead of reciting my sins and making sure I remember them, I was thinking about the chess pieces and all the questions that flooded my mind.  To make things worse, I was also imagining myself being the Queen from Alice in Wonderland.  Everyone trembled in her presence.  How empowering!  Being her would make me the perfect queen on the black-and-white marble floor of the church.  I would make the priest talk to God about me only in superlatives (and I wouldn't mind if the priest would pretend or lie or pretend to lie).
My turn came unexpectedly, like everything else that interrupts engaging thinking.  I entered the darkness of the confessional and knelt.  It smelled of mold, old wood, and dust mites.  I saw the priest making the sign of the cross in front of my face but on the other side of the small window adored with wooden plate engraved and cut beautifully.  For a moment I studied the pattern thinking that I must have seen it somewhere before but I couldn't remember where.  The priest cleared his throat bringing me back to where I was supposed to be.
"Forgive me Father for I have sinned …  this is my first confession.  I accuse myself of the following sins." I stopped. "Well, this in not my first confession, really …" I wanted to explain myself as accurately as I could. "I am just rehearsing here and I would like to know if God knows that I am just rehearsing."
I saw the priest rolling his eyes and then leaning closer to my face.
"Danuta, of course God knows that you are rehearsing.  God knows everything, right?" I knew the priest wasn't really asking that question, he was just pretending.
"I am confused." I confessed and felt that I was finally saying something that was meaningful to this conversation.
"Just tell me your sins." The priest was saying it slowly which meant he was growing impatient with me.
"This is my sin." I said, growing impatient with him, although knowing that I am not allowed to do that.
"Confusion is not a sin." This time his voice was stern.
"It can be."

"This is not the time to argue with me, Danuta!"
"I am not arguing! I am lost and confused!" I felt a wave of warmth coming up my face all the way to where my eyes were fixated on the beautiful wooden pattern and I suddenly remembered where I saw this pattern.  It was in the movie, Lawrence of Arabia.  What a relief!
"Are you going to confess your sins or not?  If you won't pass this rehearsal I can't let you go to the first confession and the first communion." The priest clearly wasn't following my way of thinking.
"I killed a kitten last week," I said fast.  "And a little bird that fell of his nest from the apple tree behind my house." I was hoping to make an everlasting impression on the priest and force him to pass me.
"Is this true?" He wasn't going to make it easy on me.
"No," I said.
"I am giving you just one more chance." He said leaning closer again.
"OK, I lied." I said leaning closer to his ear.
"When did you lie and what was it that you lied about?" I could tell he was becoming finally satisfied although I felt that his question wasn't necessary.
"I just did.  About the kitten and the bird."
He rolled his eyes again, made a cross in front of my face and gave me a penance, three Hail Mary's.
"Is this for real?  I mean the penance?" I needed to know if I had to be sincere or just to pretend to be sincere, the way they do it in the movies.
"Go.  Just go." The priest didn't have the time to explain the  details to me.
This short meditation on a memory from my childhood was inspired by a poem, "Adultery" by Ann Bracken.  This poem was published in the Summer 2011 Make Believe issue of the Little Patuxent Review and presented in a public reading on June 18 at Oliver's Carriage House, 5410 Leaf Treader Way, Columbia, MD 21044 as part of the Columbia Festival of the Arts.
Bracken says about her poem:
"This poem captures the essence of why it is important to ask questions.  The incident it is based on remains one of the clearest memories of my childhood and has provided humor for many."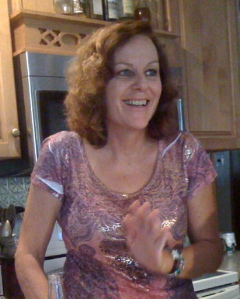 Adultery
by Ann Bracken
A room full of innocent seven year-olds
are memorizing the ten commandments.
They sit, eyes fixed on illustrated
poster-sized pages, bound
with thou shalts and
thou shalt nots printed
in black block letters.
Sister speaks, the class repeats,
"The sixth commandment is
Thou shalt not commit adultery."
The class echoes back, as she rushes on,
but in the space between
I raise my hand and ask,
"Sister, what's adultery?"
Furiously flipping the page, she intones,
"The seventh commandment is…"
My cheeks burning, shamed and scarlett,
I study each word
Thou shalt not commit adultery.
I struggle toward the solid conclusion
that if adult means you are a grown-up
then adultery means you are
pretending to be a grown-up.
A commandment just for children.
With the realization of
my frequent sinning, I begin
examining my conscience:
How often have I played dress-ups?
or pretended to be a doctor,
a nurse, a teacher, or a secretary?
Mental tally held
in my memory,
shaking and afraid, I join
my classmates filing into the church
lit only by the red flame
of the sanctuary candle
burning for our sins.
Forty second graders cram into four pews
silently waiting to seek
forgiveness in the
velvet-curtained confessional.
The murmurs of transgressions
like incense fill the air .
I kneel, make the sign
of the cross, then stammer, "Bless me, Father,
for I have sinned. This is my first confession
and I have lied to my parents about 20 times,
fought with my brothers and sisters about 17 times,
and committed adultery 35 times."
After a brief silence punctuated by a sigh,
Father Riley, through his confusion,
assigns my penance,
two Hail Mary's and one Our Father.
Leaving me to believe in
the truth of my innocence,
he forgives me all my sins.
Ann Bracken (in the picture by her daughter, Christella Potts) is an expressive arts consultant, poet, and lecturer certified in poetry therapy, journal facilitation, special education, and drama in education. One of Ann's continuing professional interests has been studying how the brain can benefit from the expressive arts to facilitate change. She has taken that pedagogical research and applied it to her writing programs focusing on healing, growth, and navigating life's transitions. An avid reader and writer of poetry, Ann enjoys the challenge of telling stories with metaphor and humor. Her poems have recently appeared in The Little Patuxent Review, Life in Me Like Grass on Fire, and Praxilla.