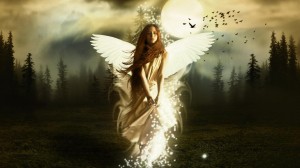 I am finishing a short story titled: "In the Forest of Angels."  The story was inspired by real events and all the characters in the story are based on real people — my grandparents, my mother, and me.
Here are two short excerpts:
Joseph knew, and could even remember this from before the war, that time should flow like a stream, beginning at the top of a mountain and ending at the salty basin at the bottom of the earth.  It should move fast on rocks and slow when cutting through lowlands.  It should reflect clouds, birds, trees, tall grasses, and children playing on the banks.  It should carry the voice of a man on the boat.  It should quench the thirst of pilgrims and nourish the dough enough for the yeasts to rise.

But for him time bent into a perfect circle when the people from the trucks were ordered to form a line along the hallowed ground.   That was the moment when he learned that nothing could ever be erased.  Everything that happens stays in a place of forever, written in letters that don't curve or lean softly, like the ones on the stolen silverware, but are bold – etched into very flesh of mind, indestructible and infinite.

"You silly girl!"  He called Annie.  "Come down here!"

They sat in the shade of an old cherry tree as he combed her hair, parting it slowly with the same care as always and passing to her the loose hair pulled off the comb.

He carried in his pockets ribbons and rubber bands just in case his granddaughter's hair needed to be straighten out.  The two of them had a special code for ribbons: red and brown for autumn, yellow and green for spring, orange for summer, white and navy for winter.  Sometimes they used rubber bands with shinny plastic globes and tiny butterflies to hold her bangs.

[…]

"My two friends and I decided to visit our school teacher who lived in Piaśnica Village.  His wife died recently and we wanted to make sure he had everything he needed.   Grandma Angela baked two loaves of bread for him and I bought his favorite sausages from the farmer who used plenty of marjoram.  My friends brought farmers cheese, apples, and plums.  The bicycle ride was pretty long.  It took us hours to go the fifteen kilometers.  We got very tired in the middle of the forest so we decided to have a snack and rest for a while.  We fell asleep under the tall pines.  I could still hear someone snoring when I was awaken by a strange sound.  I couldn't recognize what it was."

"It was the sound of wings," his granddaughter interrupted.

"Yes.  And this is why I couldn't recognize it because I had never heard it before."

"But it was like swans, remember, like swans taking off on a lake."

"Yes, but I knew there were no swans in the middle of the forest."

"And?"

He told her how surprised – no, astonished – he was when he finally opened his eyes.  His friends were still asleep but he couldn't even think of waking them up.  There was no time for anything.  Besides, he couldn't move.  He became all eyes and eyes only.  What he saw transported him into a world beyond human imagination.  This is what he said to his granddaughter, beyond human imagination.
Image is this post: http://www.blirk.net/rise-on-an-angel-wallpaper/1/1366×768/