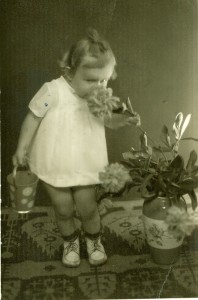 When I look at this picture of my sister I remember the day.  We were visiting my uncle, my mother's brother and his family. They had just moved to this new apartment and my parents were excited to see the new place.
My sister was two maybe two and a half years old.  I was five or five and a half.
I remember going up the stairs and that the stairs were not made of wood, the way they were at my house.  I remember seeing many doors on our way up and this also was different from my house.  And finally, I remember my parents not knocking on the door but using a door bell that sounded like chimes.  We didn't have a door bell.  At my house all visitors had to knock on the door using their knuckles.
I remember the anticipation of waiting at the door — are they in?
To think of it from today's perspective, I am not sure how people communicated.  There was no Internet, no cell phones, and we didn't have a phone.  I assume that adults had to either agree on something when they saw each other, whenever it was, or people were just stopping by randomly without any warning.    I think the second option was more possible because I remember the feeling of being always alerted–the house had to be clean at all times ("Imagine if someone would see this!" was a very common saying) and we always had to have some treat ready, a cake or a pie, in case of unexpected quests.
Think of it, there is an old Polish Christmas tradition that requires to have an extra plate for the "unexpected quest" on a dinner table.  Being ready for unexpected visitors was considered good manners and the unexpected quests were not expected to bring anything because they could had been visiting for many reasons–their car broke down around the corner, they needed directions, or they were our neighbors who needed an egg, a glass of sugar (I remember women coming with empty glasses in their hands asking for sugar or flour), or they would just come to share the latest gossip.
My uncle was home!  He opened the door and we went in. I remember we were given a tour of the apartment and then the official part of the visit, always the same, began.  The official part meant sitting at a table, eating, drinking, chain-smoking, and talking (interrupting each other was not considered bad manners).  Talking meant laughing, joking, and most of all arguing about politics and everything else under the sun.  It seemed as if there was an ongoing competition that called for the "smartest of all" to be recognized by the end of the day.
And then there was this perfect moment.  I remember my sister, Ola leaning to smell the enormous peonies.  She leaned forward, without touching the flower and stayed like this for a long moment.  I remember seeing her doing this and I remember I liked seeing her doing this. And as I looked at her I felt this urgent rush to share this beautiful moment with everyone.
"Mom, mom, look at her!"  I shouted trying to hear my own voice in the commotion of the many voices around the table.
My mom looked at me and then at my sister and immediately started waving her arms, trying to get everyone's attention.  It worked.  Everyone became quiet and for a brief moment everyone looked at Ola who had no idea she was being watched.
It was the perfect moment in which people connect with something and the "something" helps them to also connect with each other.  This moment of silence became a celebration of truly being together.  Apart from the noise and arguments, apart from eating, smoking, and drinking, and apart from being apart.
In this moment I felt a new, strange and beautiful way of being with my family.  I felt I was a part of the family, not just this "little being" (like all the children) everyone talks about but asks to sit at a separate table far away from where the real life happens.
This moment lasted about three seconds before someone declared that we had to take a picture of  "this" to everyone's approval.  And then the commotion was back.
Fast, fast, bring the camera!  Where is her bucket?  Danuta, did you see Ola's bucket?  We have to give her the bucket!  It will be so cute!  Ola stand here.  No, no, not like this!  Move closer to the vase.  No, let's do it this way!  Did you find the camera.  Okay, let's move back!  Everyone, be quiet.  Let's see … yes, hold the bucket in your right hand and sniff the flower.  No, no, not like this.  You are too close.  We have to see your face.  Move to the right.  Yes! Danuta, move back, you can't be in this picture.  This is just for your sister.  Ola, hold the flower here, yes, like this.  Don't look at us.  Don't look!  Just smell the flower.  Good girl.  Can you take the picture now?  Do you want me to take it now?  Okay.  Ola, don't look at us.  Just smell the flower.  Isn't she cute!  Just look at her chubby legs.  Look at her knees.  So cute, so cute.  Stop talking, I can't concentrate.  Oh, stop!  You don't need to concentrate for this.  Just take the picture.  I need to move back, I am too close.  Ola, smile! No, don't make her smile!  It should look natural. Ola, don't smile.  No, don't smile. Yes, that's better.  The coffee is ready, for god's sake!  Why is it taking so long.  Stop that.  You always complain.  Why is your wife always complaining.  Don't you see we are trying to take a picture here!  Jesus, let's just be done with this. How long does it take to take a picture.  Mom, I need to go to the bathroom.  Hold it, honey.  Just hold it for one more second.  I really need to pee.  Just look at he flower and keep your knees together.  Fine!  I am done.  Let's have the coffee before … Wasn't she cute.  Yes, she was.  And it's not like that with her at all.  Usually she can't stand still for a second.  She is always running and running.  What a child!  I am telling you, Danuta can sit and play by herself for hours.  Ola is different.  She always have to run and talk, run and talk, run and talk.  My goodness, she is a talker.  Sometimes I can't believe she is the younger one.  I am telling you, she can't stand still.  I don't know why.  I have no idea why!  I am so glad we took the picture.  At least we have a one good picture of Ola being still.
In this picture, my sister, Ola is misrepresented, the moment is misrepresented, and the feeling of that day is misrepresented.  Nothing is really true.  But even though the picture is an epitome of misrepresentation, for me it still holds the truth of the three seconds when everything suddenly became whole, when everything suddenly became true.