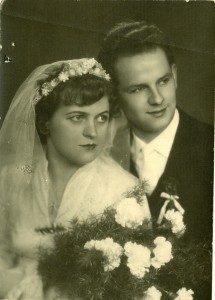 This is my favorite picture of my parents.  I like the way my mom looks on this picture; she reminds me of a movie star from the 30s. But I especially like the way my father looks because the corners of his mouth are turned upward. When I look at the picture I feel like he is not smiling; he is actually genuinely happy, deeply satisfied with something, perhaps with his life.
I remember that when I was younger I also liked the way his hair looked like on this picture because in real life, by the time I was born, he had this peculiar comb-over-blowing-in-the-slightest-breeze — let's face it — terrible hair style.
I thought of this picture today after talking to my dad on the phone for a couple of minutes.  A couple of minutes: that's all he can give me before he is out of breath now (it started on Saturday).  He is fading away with each day passing, becoming quiet, becoming quieter, moving towards silence.
I look at his mouth on the picture and I want him to be who he was before I was born.
"Soon," he said to me yesterday, "I will be with mom where everyone is young and happy."  My dad is in peace with the dying.  I am not, even though I try to remember a saying by Lao Tzu that reminds me of my dad:
If you realize that all things change, there is nothing you will try to hold on to. If you are not afraid of dying, there is nothing you cannot achieve.
I am trying to hold on to the corners of his mouth turned upward.  I know I can't but I can't stop myself from trying.