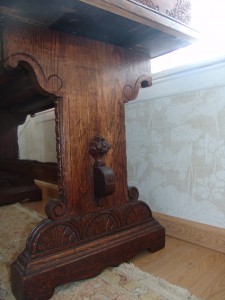 Everyday is the same. I stare at a blank page and feel as if I have never written a sentence before. Nothing comes to my mind. I look out the window — the forest is still in the same place. I look at my neighbors deck and for some reason a past scene comes to my mind.
I see a one, maybe one-and-a-half year old child standing on a chair and leaning over the railing. My stomach tightens and a scream, get down, get down. The child smiles, waves to me, and leans forward again. Get down, I scream, and the child clearly doesn't understand. I battle my thoughts — should I run around the house and knock on the front door? I can't, I decide. I have to stay here in case the child falls down. I will catch him, I think. Finally his older brother, perhaps five year old get's on the deck.
"Ask your father to come here and take the baby down," I say.
He runs inside and after a minute or so, the father comes out. He takes the baby down, moves the chair, and thanks me. I go home, but still imagine what could have …
I stare at the blank page again. I am working on Europe Without a Name. I mostly stare at the blank page.
Today, June 14, 2012, I want to write about the day when I was six years old and my mom's sister, Wladzia, a teacher in an elementary school took me to work. It was an embarrassing if not painful — yes, actually painful –but today funny and a bit painful, episode of my life. I am not sure where to start. I am not sure how to write.
Will I be able to write about it? I sit here, in my bedroom, with the door closed. I have a beautiful writing desk — a table from an European monastery, XVIII century, I was told.  I love my desk. The page is still blank.  I already had my breakfast, I have no reason to go downstairs! I did my laundry yesterday. I have no reason to check the dryer!
I stare at the blank page.