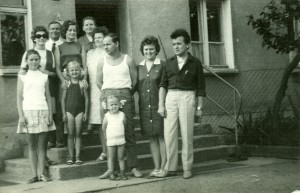 In the research related to the book I am working on right now, Europe Without a Name, among other things, I listen — how did we live before the Internet, again? — to Polish music of the 60s and 70s, and it takes me a long time before I can gain my composure and write. How strange and comforting it seems to be? I am able to remember something the way I saw it as a little girl — or is it just my imagination?
I also look at old pictures of my family and I seem to remember — as I would put it, "exactly" — the day, the feelings, the conversations, the people.  I remember the way my uncle's shoes bent and squeaked as he walked next to me. I remember the cotton fabric of my aunt's (my mom's youngest sister) summer skirt. And the bows on its front pockets. I remember how my aunt bit her fingernails, and how I thought that the habit was associated with the preoccupied mind of an adult. And how I couldn't wait to become an adult myself. I even started biting my fingernails to speed up the process, but it turned out to be a futile experiment, because I could never remember.
What struck me today is a profound conviction that I am not interested in fiction anymore. That's silly, I think, still getting used to the new idea. That's all you do! You write fiction! No, not anymore, the other voice answers. What do you mean? I ask myself. Simply — I am not interested, thank you.
When I look at the picture from my childhood in this post (I am the girl in the bathing suit) I see the members of my family as people full of life — rich in experiences and feelings. I see them entangled in relationships, in politics, in religion. I see them making sense of their world.
This is a new idea to me, but I think I want to celebrate the life I know — do I? — rather than the life I can make up.
Here is a short excerpt from today:
Every morning either my mom or my grandmother fasten the ribbons in my hair very tight to make sure nothing moves during the day—looking disheveled is not acceptable as much as making noise with a spoon while stirring your hot chocolate, or not covering your mouth while yawning, or using a knife while eating fish, or criticizing the government in public, or not criticizing the government in private. Everyone knows that world without rules and good manners would come soon to an end, especially after the war. Someone has to make sure we won't turn into wild animals, as my mother and my grandmother say. I am glad our cat is domesticated.