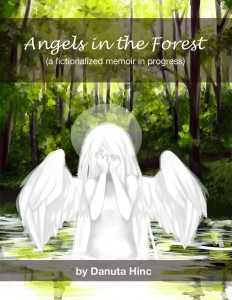 I am in Boston for the 2013 AWP Conference. Months of preparations (or thinking about preparation intensely, if you know what I mean) finalized in two talks.
The first one is for a panel, "Writing in the Diasporas Across Languages and Cultures." My portion is titled, "Angels in the Forest, my past in the present." The panelists include: Domnica Radulescu, Biljana Obradovic, Stella Radulesku, and Ezzat Goushegir.
The second one is for a panel, "Russian, Jewish, Polish, and American Poets in Translation: Cultural Contexts." My portion is titled, "Every Langauge Has its Own Silence." The panelists include: Ewa Chrusciel, Danuta Borchardt, Fanny Howe, and Tony Brinkley.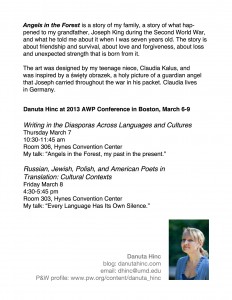 "Angels in the Forest" is about the difficulties associated with writing about the history of my family, and the history of Poland. It's about my grandfather, Joseph King, and how he influenced my upbringing with his Second World War stories. It's a story of what he witnessed during the war, how he lost his mind because of it, and how he became a mystic in order to find himself in the new reality of the communist country after the war. The story touches upon the parallels I see between my grandfather and myself; how I follow his footsteps, after rejecting his choices; about how history shapes us, and how the dead influence us in ways we can't fully understand.
"Every Language Has Its Own Silence" is about reading Czeslaw Milosz and Wislawa Szymborska in Polish and English. In this talk I deliberate about what is lost in translation, and what is gained. I analyze the silence that exists between the words of a poem, and holds the meaning of who we are shaped by the past. It's also about the silence of who we want to be in the present and the future, how we shape ourselves with the freedom of a new, second language.